David Golebiewski
|

Thursday, December 19, 2013 at 6:00AM
Matt Thornton finally learned how to tame his upper-90s fastball in his thirties, emerging as one of the game's most lethal relievers after walking the yard in the minors and during his first few years in the majors with Seattle. The durable lefty dominated from 2008-11, posting the fifth-highest strikeout rate (10.7 per nine innings) and eighth-best park-and-league-adjusted ERA (59 percent above average) among qualified 'pen arms. Hitters knew what was coming -- Thronton threw his meal ticket fastball an MLB-high 86 percent over that time frame -- but that knowledge didn't help them look any less foolish at the dish.
The Yankees just signed the 37-year-old Thornton to a two-year, $7 million free agent deal, hoping he can serve as a lower-cost alternative to power lefty Boone Logan (now a Rockie after inking a three-year, $16.5 million contract). Unfortunately, Thornton seems to have misplaced his meal ticket. These days, Thronton's throwing his fastball slower -- and leaving it over the heart of the plate far too often.
Back in 2011, Thornton boasted the highest average fastball velocity (95.8 MPH) of any lefty reliever not named Aroldis Chapman. But his average heater declined to 95 MPH in 2012, and 94.2 MPH in 2013. As Thornton's fastball velocity dipped, hitters' contact rate against the pitch spiked:
Thornton's fastball contact rate by pitch location, 2011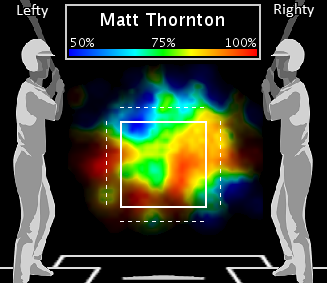 Thornton's fastball contact rate by pitch location, 2012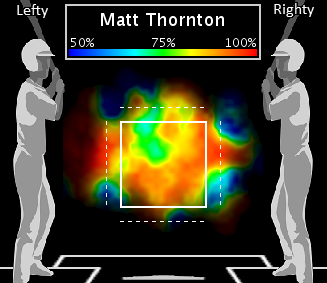 Thornton's fastball contact rate by pitch location, 2013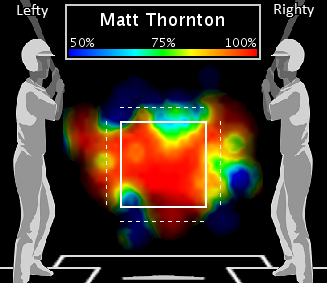 Batters whiffed at Thornton's fastball 22 percent of the time that they swung in '11, well above the 18 percent average for relievers. However, that whiff rate dropped to 16.4 percent in '12 and just 13.9 percent this past year. For comparison's sake, J.P. Howell -- who throws 88 MPH gas on a breezy day -- got whiffs 13.6 percent of the time. Connecting much more frequently, opponents raised their batting average off Thornton's fastball from .256 to .275 to .298.
Thornton's fastball velocity isn't the only thing on the wane, though -- his command has also suffered. He has thrown more pitches over the vertical middle of the plate three years running (31 percent in '11, 36.3 percent in '12, and 36.8 percent in '13). When pitchers toss a belt-high fastball, hitters pretty much morph into Dustin Pedroia. They rarely whiff (a collective 14.2 percent miss rate in 2013), hit for average (.291) and drive the ball into the gaps (.464 slugging percentage). Poorly located fastballs lead to laser shows.
With diminished zip and command, Thornton's K rate has dipped from 9.5 per nine frames in 2011 to a career-worst 6.2 in 2013, when he couldn't crack the Red Sox playoff roster. It's not like the Yankees shelled out big bucks to bring him aboard, considering that $7 million now buys about a win on the free agent market. But, like many of his formerly elite teammates in the Bronx, Thornton has seen better days.

Post a Comment
|

Email Article
| |

Permalink
|

Print Article
in

Red Sox,

White Sox,

Yankees,

fastballs
|
tagged

Boston Red Sox,

Chicago White Sox,

Matt Thornton,

New York Yankees,

fastball,

velocity