David Golebiewski
|

Friday, December 20, 2013 at 6:00AM
Few trades in recent memory have been as sexy -- and subsequently disappointing -- as the Jesus Montero-Michael Pineda deal consummated by the Yankees and Mariners in January of 2012. Back then, it looked like an old-fashioned challenge trade of potential franchise cornerstones -- your hitting prodigy for my fireballing ace. Instead, Pineda has yet to throw a single pitch in the majors for New York, missing the entire 2012 season following labrum surgery and trying to regain his stuff in the minors late in 2013. Montero, meanwhile, has played like a minor league lifer (career 0.3 Wins Above Replacement) and is buried on the Mariners' 2014 first base/DH depth chart behind the likes of Corey Hart, Logan Morrison and Justin Smoak. The 6-foot-3, 230 pound Montero's squatting days are already over, due to a mix of injuries (a torn meniscus in his left knee in 2013), downright Doumitian glove work, and the arrival of well-rounded top prospect Mike Zunino.
It's hardly a shock that Montero, who also served a 50-game PED suspension last year, is no longer catching. His work behind home plate has long been panned, and even his most ardent supporters were only hoping that he could fake it in a Mike Piazza kind of way. Montero can't, as his career caught stealing rate (14 percent) is barely half that of the league average (26 percent), and his called strike rate on pitches thrown in the strike zone (76 percent) is the lowest among all backstops over the past three years, save for Ryan Doumit. 
Montero's predictable slide down the defensive spectrum wouldn't be so bad if he had developed into the devastating hitter that scouts had long prophesized. But that hasn't happened: in 732 major league plate appearances, he has a park-and-league-adjusted on-base-plus-slugging percentage that's three percent below average. Ditching his catcher's mask raised the bar on Montero's bat -- as a DH/first base type, he has to swat homers and get on base to be worth a roster spot. It's hard to say who the 24-year-old is at this point. He's not a catcher, and he's not a slugger. Which is why he'll almost assuredly be a Tacoma Rainer in 2014, assuming GM Jack Zduriencik doesn't sell low on the former top-five prospect.
The hulking righty hitter has already proven that he can mash fastballs at the highest level. But if Montero is to escape Triple-A purgatory and eventually join Robinson Cano in the middle of the M's lineup, he'll have to start laying off curveballs, sliders and changeups thrown off the plate. The stud once likened to Piazza and Miguel Cabrera is now drawing parallels to young hitters undone by their hacking like Jeff Francoeur and Delmon Young.
Against fastballs, Montero looks like a seasoned pro. While he chases heaters slightly more often (28.7 percent) than the average hitter (25.4 percent), he's also slugging .514 (about 80 points above the MLB average). Fourteen of Montero's 22 career homers have come off fastballs. When pitchers challenge him, Montero makes them pay with decent plate patience and serious power.
They rarely challenge him, though, as Montero has seen the fifth-lowest percentage of fastballs (42.2 percent) among AL hitters logging 500-plus plate appearances from 2011-13. There's a good reason for that approach -- Montero gets himself out against breaking and off-speed stuff by chasing pitches off the edges and in the dirt.
Montero's swing rate by pitch location versus breaking and off-speed pitches, 2011-13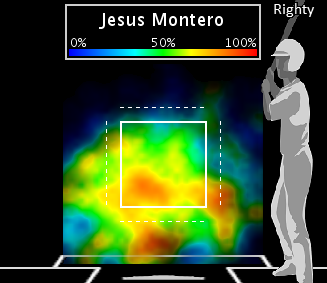 MLB average swing rate by pitch location versus breaking and off-speed pitches, 2011-13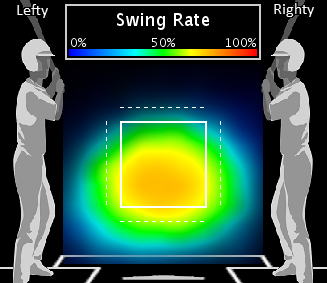 Montero has chased 42.2 percent of curves, sliders and changeups thrown outside of the strike zone, way above the 31.7 percent MLB average. That puts Seattle's hoped-for cleanup hitter in the same neighborhood as Francoeur (44.1 percent) and Young (44.8 percent), among other bad-ball swingers.
It's no secret that plate judgment is paramount for batters, but the difference between swinging at a ball and a strike is, well, striking. When hitters swing at a breaking or off-speed pitch thrown out of the zone, they slug .187. When they swing at a strike, they slug .474. Chase a curve, slider or changeup off the plate, and you hit like a pitcher. Swing at a strike, and you're suddenly Pedro Alvarez. 
Montero isn't a lost cause, but his plate approach needs a serious overhaul if he's going to rake in the majors. Currently, pitchers can toss soft stuff galore and watch with glee as he buries himself in the count or makes weak contact. There's no reason to let him pull a fastball into the bleachers when he's so eager to lunge at unhittable junk. Montero could still become a Paul Konerko-esque slugger, overcoming a rough big league introduction and crushing enough pitches to make a difference at a bat-only position. Short of learning to lay off soft stuff, though, Montero will join free-swingers like Francoeur and Young in top prospect infamy.

3 Comments
|

Email Article
| |

Permalink
|

Print Article
in

Mariners,

Yankees
|
tagged

Corey Hart,

Jesus Montero,

Justin Smoak,

Logan Morrison,

Michael Pineda,

Mike Zunino,

Robinson Cano,

Seattle Mariners,

catcher,

changeups,

curveballs,

sliders