David Golebiewski
|

Friday, May 24, 2013 at 3:44PM
In January of 2012, the Seattle Mariners and New York Yankees consummated the rarest of baseball transactions: a challenge trade of young, potential franchise players. Jesus Montero, a hulking catcher with Piazza-like career possibilities, was dealt from New York to Seattle for Michael Pineda, a mountain of a man possessing upper 90s gas and a wicked slider. The swap had no service time considerations, no financial motive. It was simply, "Your cleanup hitter for my ace."
Or so we thought. Pineda's waistline expanded, his velocity shrunk and he underwent surgery for a torn labrum. He has yet to throw a regular-season pitch in pinstripes. And Montero? His 6-foot-3, 230-pound frame has produced just a .377 slugging percentage in Seattle, and he just got booted off the M's roster.
With all due respect to Eddie Harris from Major League, I'm just gonna say it: Jesus can't hit a curveball. The 23-year-old Montero's big league career is being held back by serious pitch recognition issues against the breaker. Check out Montero's swing rate by pitch location against curveballs during his short career, and then the MLB average:
Montero's swing rate vs. curveballs, 2012-13
Swing rate vs. curveballs for MLB hitters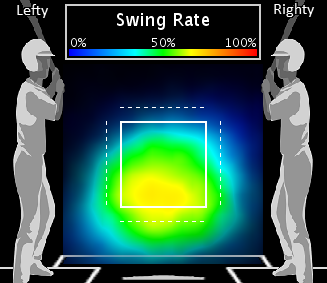 Two things immediately stand out, and neither is good: Montero swings at fewer in-zone curveballs (44%) than the average big league hitter (55%), and he chases more curves out of the zone (39% for Montero, 28% MLB average). On a related note, Jesus has been one of the worst curveballs hitters in the majors over the past two years. His slugging percentage against curves during the 2012-13 seasons is more than 200 points below the MLB average:
Lowest slugging percentage vs. curveballs, 2012-13
We knew that Montero would struggle to hit the curve, but his bat figured to make him a stud nonetheless. But, now that he can't hit the curve, it might be time for Jesus to make an offering to Jobu.
Comments Off
|

Email Article
| |

Permalink
|

Print Article
in

Mariners
|
tagged

Jesus Montero,

Seattle Mariners,

curveball