David Golebiewski
|

Tuesday, December 31, 2013 at 6:00AM
Masahiro Tanaka will likely become the first Japanese star to earn a $100 million contract in the states, thanks to a confluence of factors including unprecedented TV money permeating the game, a new posting system that shifts more cash from Nippon Professional Baseball teams to players, and the 25-year-old's youth, power and precision on the mound. Statistically, Tanaka compares favorably to other top Japanese starting pitchers who have made the jump to Major League Baseball. He's got the stuff to match up, too. While the Rakuten Golden Eagles ace and reigning Sawamura Award winner can best hitters many different ways, his splitter garners the most international acclaim.
Tanaka throws his upper-80s splitter around 15 percent of the time, according to the NPB Tracker website. Baseball America's Ben Badler calls the offering "arguably the best in the world," noting that overmatched NPB batters routinely swing over the pitch as it plummets toward the dirt. Tanaka's out pitch will make him an outlier in the majors. Just 1.4 percent of the total MLB pitches thrown over the past three seasons have been splitters, and only 17 hurlers have thrown the pitch at least 10 percent of the time over that period.
If Tanaka truly wants to lay claim to having the world's best splitter, he must top a collection of pitchers including Japanese standouts like Hiroki Kuroda, Hisashi Iwakuma and Koji Uehara. Here's a look at Tanaka's competition for the title of splitter king, with top 10 rankings over the 2011-13 seasons in swings and misses, chases on pitches tossed out of the strike zone, strikes thrown, ground balls induced, and opponent slugging percentage.
Splitter Whiff Rate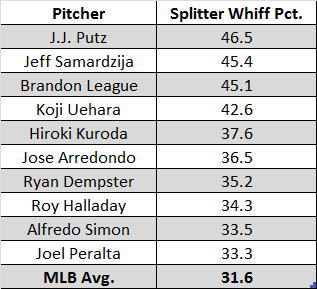 Percentage of Splitters Chased out of the Strike Zone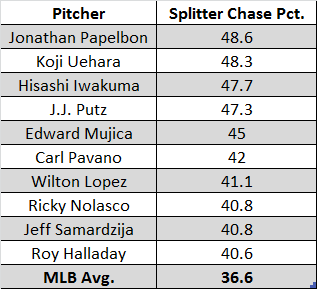 Splitter Strike Rate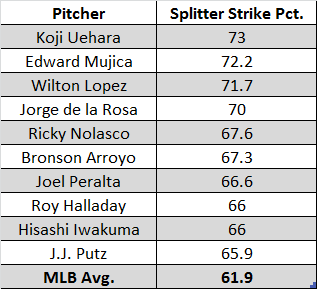 Splitter Ground Ball Rate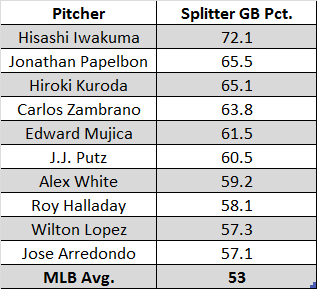 Opponent Slugging Percentage vs. the Splitter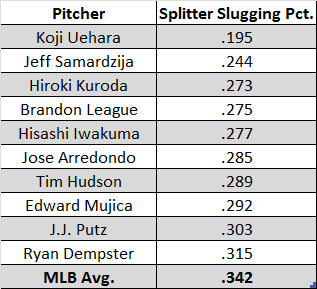 Post a Comment
|

Email Article
| |

Permalink
|

Print Article
in

Free Agents,

Nippon Professional Baseball,

Red Sox
|
tagged

Hisashi Iwakuma,

Koji Uehara,

Masahiro Tanaka,

Nippon Professional Baseball,

Rakuten Golden Eagles,

posting system,

splitter