David Golebiewski
|

Monday, January 6, 2014 at 6:00AM
In this polarized age of Hall of Fame voting, when debates center on how to evaluate stars associated with PEDS and whether the limit of ten players per ballot should be abolished, one man unites the masses: Greg Maddux. Newly eligible for Cooperstown, Maddux is expected to soar past the 75 percent threshold for induction and perhaps even challenge Tom Seaver's record vote percentage of 98.84, established in 1992.
It's easy to see why Mad Dog will achieve baseball's highest honor. He was durable, eclipsing 5,000 innings pitched during his 23-year career, and dominant, posting the tenth-best park-and-league-adjusted ERA (32 percent above average) among starting pitchers (minimum 3,000 frames). There's also his record 18 Gold Gloves, the product of a silky-smooth delivery that left him square to the batter and surprising athleticism for guy who looks more like a CPA than an MLB legend.
Maddux was still schooling hitters at the end of his career in 2008, despite possessing raw stuff that wouldn't have landed him so much as a minor league deal. He had no fastball to speak of, throwing the pitch at an average speed (84.3 MPH) that bested only Jamie Moyer (80.9 MPH) among qualified starters. Just about nobody swung through Maddux's "heat," as his whiff rate (7.1 percent) was barely half of the league average (14 percent). Yet, Maddux got elite results with an ultra-slow pitch that elicited scads of contact. Among qualified starters, only Ryan Dempster and Daisuke Matsuzaka had a lower opponent slugging percentage on fastballs thrown:
Lowest opponent slugging percentage on fastballs, 2008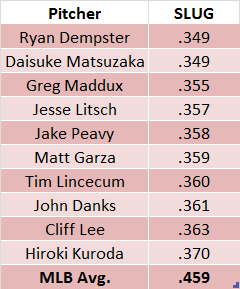 How did Maddux do it? The then-42-year-old triumphed over the radar gun by stealing strikes on pitches thrown just outside of the strike zone, avoiding the fat part of the plate, and generating bushels of ground balls.
Stealing Strikes
Maddux was the dean of expanding hitters' strike zones. In '08, he had the highest called strike rate (42.8 percent) among National League starters and trailed only another deserving, though much less acclaimed, Hall of Famer in Mike Mussina (43.8 percent) among all pitchers. Maddux was especially adept at getting called strikes on borderline pitches. Check out his called strike rate on pitches thrown outside of the strike zone, compared to the league average:
Maddux's called strike rate on fastballs thrown outside of the strike zone, 2008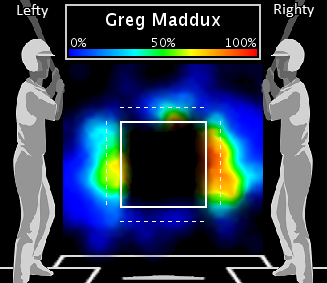 League average called strike rate on fastballs thrown outside of the strike zone, 2008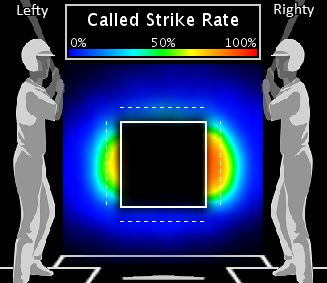 Overall, pitchers got called strikes 13.1 percent of the time they threw something off the plate in 2008. But Maddux? He got a called strike 20 percent of the time, ranking behind only Livan Hernandez (21.7 percent) and Jake Peavy (20.5 percent). If there's one saving grace in being a soft-tosser, it's that umps tend to give you more calls compared to power pitchers.
Avoiding hitters' wheelhouse
Everyone knows that Maddux threw a ton of strikes -- you don't compile the best career strikeout-to-walk ratio (3.37) this side of Mussina, Cy Young and Curt Schilling by nibbling. But Maddux threw quality strikes as well, painting the corners and rarely missing his spots. Take a look at his fastball pitch location against lefties and righties in '08:
Maddux's fastball location vs. left-handed hitters, 2008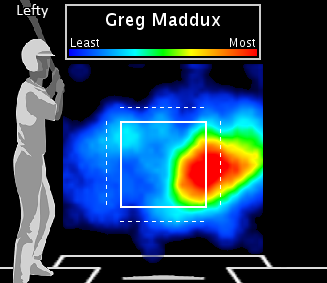 Maddux's fastball location vs. right-handed hitters, 2008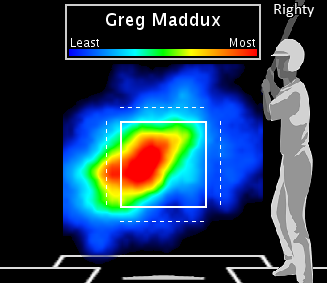 For Maddux, it was all about avoiding the center of the plate. He threw fewer pitches to the horizontal middle of the strike zone (21.2 percent) than the average starter (23.3 percent), instead living on the outside corner against lefties and righties alike. Maddux tossed the fifth-highest rate of fastballs to the outside corner (60.6 percent) among all starters. That kind of command is the difference between getting clobbered (hitters slugged .500 that year against fastballs thrown down the middle) and entering Cooperstown (they slugged .355 versus fastballs thrown away).
Burning worms
Mad Dog knows that chicks dig the long ball, but he was notoriously stingy in giving them up. He surrendered just 0.6 home runs per nine innings pitched, second-lowest among starters who have logged 3,000+ innings since his big league debut in 1986 (Kevin Brown is first, at 0.57 HR/9). During his swan song season, Maddux still ranked in the top ten among starters in fastball ground ball rate:
Highest ground ball rate on fastballs, 2008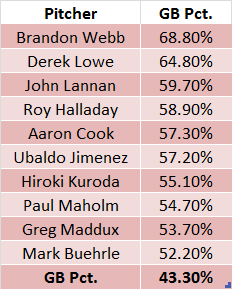 Maddux is a prime example of why so many former Little League and high school players, eventually forced out of the lineup, still love the game. He wasn't big. He didn't throw hard. He had crappy vision and wore the biggest glasses this side of Harry Caray before eventually undergoing LASIK surgery. He was like us. Or, at least it felt that way. Appearance and stuff aside, Maddux is in a class all his own when it comes to outwitting hitters.
in

Braves,

Dodgers,

Hall of Fame,

Padres,

cubs,

fastballs
|
tagged

Atlanta Braves,

Curt Schilling,

Greg Maddux,

Hall of Fame,

Mike Mussina,

Tom Seaver,

control,

fasball,

walks