David Golebiewski
|

Saturday, May 18, 2013 at 10:59AM
Last night, Miami pitcher Kevin Slowey discovered that throwing Paul Goldschmidt a high pitch is a good way to test whether the retractable roof at Marlins Park can withstand a meteor strike. Goldschmidt ripped a hanging curveball deep into the Little Havana stands, and then later fended off 12 pitches from Slowey before pummeling an elevated fastball over the fence. The D-Backs' first baseman, who ranks behind only Justin Upton in home runs (12) and Chris Davis in slugging percentage (.656), has emerged as an elite slugger by mauling pitchers who dare to climb the ladder against him.
Goldschmidt's slugging percentage vs. high pitches, 2013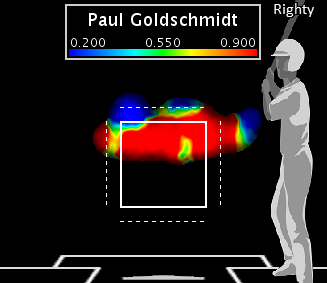 Goldschmidt has blasted eight home runs on high pitches this season, tops in the majors by a wide margin. His closest competitors are Nelson Cruz, Mark Reynolds and Chris Carter, with five. He also boasts the highest slugging percentage versus high stuff among MLB hitters, besting the likes of Davis, Cruz and Ryan Braun:
Highest slugging percentage vs. high pitches, 2013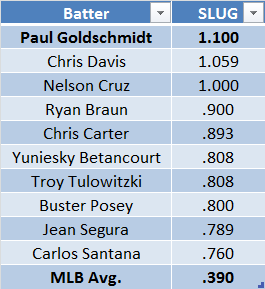 Goldschmidt was a prodigious high-pitch slugger in both 2011 (.595) and 2012 (.604), but he has taken it to another level this year by improving his pitch recognition. When opponents throw him high stuff, he's swinging at more strikes and chasing fewer pitches off the plate:
Goldschmidt's swing rates vs. high pitches, 2011-13

Arizona recently signed Goldschmidt to a five-year, $32 million contract extension with a $14.5 million club option for the 2019 season. That could end up being one of the most team-friendly deals in the majors, considering that Goldy's career OPS+ so far through age 25 (135) is similar to first base luminaries like Eddie Murray (136 OPS+), John Olerud (137 OPS+), Joey Votto (139 OPS+), Orlando Cepeda (139 OPS+), Jeff Bagwell, and Prince Fielder (140 OPS+). Goldschmidt's track record isn't as long as those guys (he's just closing in on 1,000 career plate appearances, while most of the players mentioned above had 2,000-3,000 trips to the dish at the same point; Votto had the fewest, at 1,222). But still, talk about stellar company.

Email Article
| |

Permalink
|

Print Article
in

Diamondbacks
|
tagged

Arizona Diamondbacks,

Paul Goldschmidt