David Golebiewski
|

Friday, May 3, 2013 at 5:18PM
A.J. Burnett takes the mound tonight against Washington boasting the top strikeout rate (12.3 per nine innings pitched) among National League starters. His hook is the reason why. Burnett's sinister knuckle-curveball has already felled 29 batters this season, which is the highest total for any breaking or off-speed pitch in the majors aside from Yu Darvish's slider. Here are three reasons why Burnett's curveball is so effective, in honor of the many punch outs that the pitch has produced.
A.J. almost never hangs his curveball high in the strike zone. He has thrown just four percent of his breakers in the upper-third of the zone this season. That's lowest among all starters who have tossed at least 100 curves in 2013.
He's not just keeping the ball down -- he's also avoiding the heart of the plate. Burnett has placed 19% of his curveballs over the horizontal middle of the strike zone, well below the 24% average for MLB starters.
Burnett's curveball location in 2013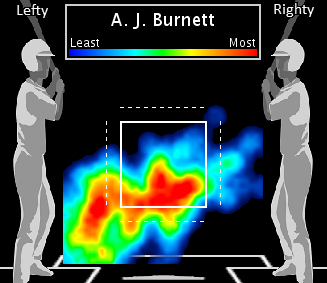 Batters have swung and missed 47% of the time against Burnett's curve, tops among starters. The MLB average is a comparatively puny 27%. Almost all of Burnett's strikeouts with his curveball have been of the swinging variety (27 of 29, or 93%).
Comments Off
|

Email Article
| |

Permalink
|

Print Article
in

Pirates
|
tagged

A.J. Burnett,

Pittsburgh Pirates,

curveball