David Golebiewski
|

Monday, August 5, 2013 at 8:00AM
Expect to see lots of jelly-legged hitters when Clayton Kershaw and Adam Wainwright take the mound tonight in St. Louis. Kershaw's curveball has been dubbed "Public Enemy Number One" by Dodgers announcer Vin Scully, who knows a thing or two about breakers after watching Sandy Koufax flummox hitters for years. Wainwright's breaker, meanwhile still makes 2006 NLCS Game Seven victim and current teammate Carlos Beltran break out in a cold sweat.
Wainwright has struck out the second-most hitters with his curve (77) among MLB starters, while Kershaw (53) places fourth. To honor all those victims of Uncle Charlie, here are three reasons why both Kershaw and Wainwright's breaking balls are so nasty.
Kershaw
The Dodgers lefty gets a whiff about 38% of the time that hitters swing at his curveball, crushing the 28% MLB average and trailing only A.J. Burnett (42%), Madison Bumgarner (42%), Stephen Strasburg (39%), Jordan Zimmermann (39%) and Mike Minor (39%) among National League starters throwing the pitch at least 250 times.
When hitters do manage to make contact, they're chopping Kershaw's curve into the grass. His ground ball rate with the pitch (56%) is comfortably above the 51% big league average, which helps explain how Kershaw has yet to be taken deep on a curveball this season.
Kershaw rarely leaves his curve on a tee for hitters, throwing just 19% of them to the horizontal middle of the strike zone. The MLB average for starters, by contrast, is 26%.
Pitch location of Kershaw's curveball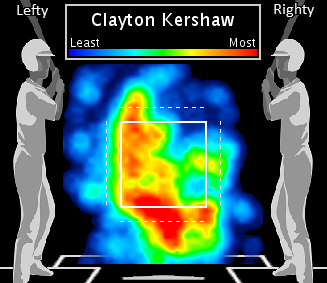 Wainwright
While Wainwright gets a fair number of swings and misses with his curve (33% miss rate), he excels at getting hitters to expand their strike against the pitch. Wainwright has baited batters into chasing his curveball off the plate 38% of the time, tying him with Jose Fernandez for third-highest among starters. Minor (42%) and Burnett (39%) rank first and second, respectively.  
Hitters' swing rate by pitch location vs. Wainwright's curveball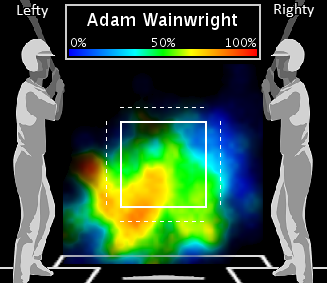 MLB average swing rate by pitch location vs. curveballs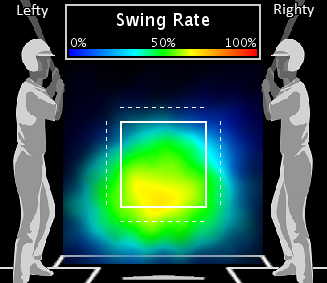 Wainwright buries his curve at hitters' knees, tossing the pitch to the lower third of the strike zone 63% of the time (the MLB average is about 56%). By keeping his curve down, Wainwright has also generated plenty of grounders (53%) and kept the ball in the park (two homers allowed on curveballs in 2013).
Part of the reason why Wainwright stays low with his curveball is that the pitch falls off the table like few others in the game. Wainwright's curve drops an average of 9.5 inches compared to a pitch thrown without spin, about four inches more than the big league average and more than all starters save for Barry Zito and Chris Tillman.
Comments Off
|

Email Article
| |

Permalink
|

Print Article
in

Cardinals,

Curve ball,

Dodgers
|
tagged

Adam Wainwright,

Clayton Kershaw,

Los Angeles Dodgers,

St. Louis Cardinals,

Vin Scully,

curveball