David Golebiewski
|

Monday, August 19, 2013 at 7:00AM
Dan Uggla is redefining the concept of the "all or nothing" hitter. The Atlanta Braves second baseman has swatted 21 home runs this season, but he has also struck out in a career-high 31.7% of his plate appearances and has, by far, the lowest batting average (.186) among qualified hitters. In fact, Uggla holds the second-worst average ever among hitters going deep at least 20 times in a season (Rob Deer batted .179 while hitting 25 homers for the Tigers in 1991).
Now, we have a pretty good idea of why Uggla is struggling: he has been trying to hit 90-plus MPH heat and wicked breaking pitches while seeing about as well as Mr. Magoo. Uggla recently went on the disabled list to undergo Lasik eye surgery, which will eliminate the need for him to wear bothersome contacts during games. Teammate Brian McCann, who also struggled with vision problems a few seasons ago, sympathized with Uggla's plight while talking with the Atlanta Journal-Constitution's David O'Brien:
"I've said it before, your eyes are the most important thing in hitting a baseball. When you don't have your eyes and you're not seeing the way you've seen your whole life, it's tough to hit sliders, it's tough to… I changed the way I hit because of it. I wasn't working counts. I was trying to up there and swing at the first straight thing I saw, because I didn't want to get to the slider to my back foot and the curveballs and all that stuff. So it's tough."
McCann's point about pitches that dip and dart being a nightmare for vision-challenged hitters is true in Uggla's case. Uggla has actually raised his batting average against "hard" pitches with comparatively less movement (fastballs, sinkers and cutters) from .242 in 2012 to .259 in 2013, and he has already hit more homers against hard stuff this year (12 in 2012, 17 in 2013). But against "soft" pitches -- curveballs, sliders and changeups -- Uggla's performance has been ugly.
Uggla is batting an MLB-worst .085 versus soft pitches in 2013, down more than 100 points compared to 2012 (.187) and little more than a third of the major league average (.241). On a related note, he's whiffing at more than half of the curveballs, sliders and changeups that he swings at, up from 44.5 percent in 2012. Against soft stuff, Uggla makes strikeout-prone sluggers such as Pedro Alvarez and Chris Carter look like contact hitters.
Highest miss rate vs. "soft" pitches in 2013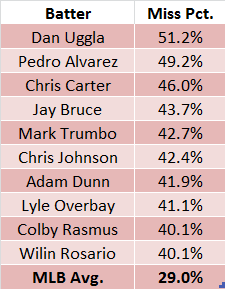 Uggla is especially flailing against soft pitches thrown around eye-level. His miss rate versus breaking and off-speed pitches thrown in the upper third of the strike zone has spiked from 26.7 percent in 2012 to 45.5 percent in 2013.
Uggla's contact rate by pitch location vs. "soft" pitches, 2012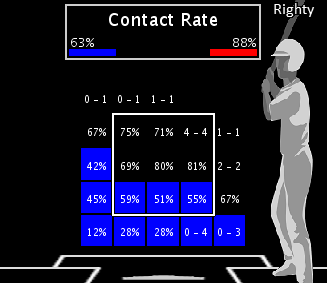 Uggla's contact rate by pitch location vs. "soft" pitches, 2013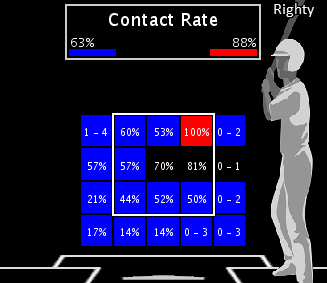 Uggla's miss rate against "hard" pitches, by contrast, has barely budged (23.6 percent in 2012, and 25.1 percent in 2013). Perhaps noting Uggla's issues with breaking and off-speed stuff, pitchers have thrown him more soft offerings this season (43.1 percent of Uggla's total pitches seen in 2012, and 45.8 percent this year). Only Jose Bautista has seen more curves, sliders and changeups.
While slow stuff has always been Uggla's weakness, his wretched performance against those pitches this season has dragged down his line to the point where he's no longer an asset at the plate. Clearly, Uggla is going to have to raise his game when pitchers take something off. Seeing clearly certainly can't hurt.

Post a Comment
|

Email Article
| |

Permalink
|

Print Article
in

Braves
|
tagged

Atlanta Braves,

Dan Uggla,

Lasik,

eyes