Michael Hllywa
|

Monday, July 29, 2013 at 1:51AM
Don't look now, but Clayton Kershaw is having himself another Clayton Kershaw-type season. What with being stingy on the walks (35), liberal with strikeouts (156) and keeping his WHIP (0.837) at a microscopic level, not to mention leading the league in fun old-school stats like ERA (1.96), and neutralized new-school stats like ERA+ (182), Kershaw is either on par with, or performing better than he did in 2012.
Maybe he's mad about losing the Cy Young Award to R.A. Dickey last season.
Meet his curveball
So, for those of you who don't know him, say hello to Mr. Clayton Kershaw. And while you're at it, say hello to his curveball.
His curveball?
Yes. His curveball.
Turns out, the 25 year-old's curveball is as devestating as his minor league scouting report said it would be. And it had a lot of hype to live up to.
The hype didn't come right away mind you. Coming into the 2006 draft, one scouting report gave Kershaw's curveball a future grade on the 20-80 scale of 55. But by the time he got to Spring Training in 2008, the common comp for the young man from Dallas, TX was Sandy Koufax.
I can see how they would make that comparison.
Sandy is a lefty. Clayton is lefty.
Sandy was a Dodger. Clayton was in the Dodgers system.
1+1=2. Etcetra and so forth.
But here he is in his sixth season (fifth full season) and his curveball is drawing praise from ESPN's Buster Olney in the form of a few placed tweets.
Opponents have swung at 135 of Kershaw's curveballs in '13 and put only 21 of them in the air in play. Only two of those traveled 300+ feet.

— Buster Olney (@Buster_ESPN)
No way.
Cue the hit chart.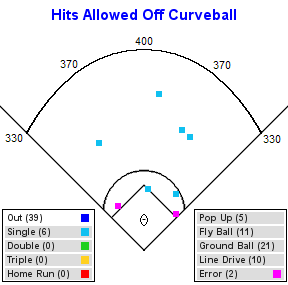 Damn, he's right. 
Kershaw has thrown more than 800 curveballs since he last allowed a HR with the pitch -- two-plus years ago (Allen Craig – April 16, 2011).

— Buster Olney (@Buster_ESPN)
MORE THAN 800!?!
Well, he has thrown 849 since the start of the 2011 season. And that start that Olney is referring too was his fourth of the season. So, yeah, more than 800 sounds about right.
Check this out
Overall, hitters are hitting .061/.061/.061 against Kershaw's curveball this season.
Lefties are hitting .080/.080/.080 and righties are hitting .055/.055/.055. How is it that lefties have a higher batting average against that pitch than righties? I don't know. Maybe they are all warlocks.
And it's not as if he never throws the pitch.
He's thrown 277 curveballs so far this season out of 2,356 total pitches. Good for 11.8% of the time.
Maybe he could stand to throw it more, but considering Kershaw hasn't had a full season with an ERA north of 3.00, who am I to tell him what to do?
Why isn't there more buzz around Kershaw?
Maybe I don't watch enough ESPN.
Or maybe the MLB Network isn't doing enough to showcase ace pitchers on the west coast.
Or maybe I don't watch enough TV. I probably don't watch enough TV.
But I don't hear as much about Kershaw as I do Justin Verlander. And Verlander, in my opinion, isn't in Kershaw's league with consistent better-than-any-pitcher-on-the-planet production. 
When Clayton Kershaw was a minor leaguer, he developed into a pitcher who's common comp was Sandy Koufax, which is probably the highest level of praise you can give to a young left-handed starter. In time though, they may have to switch the roles, and compare Sandy to Clayton.
Comments Off
|

Email Article
| |

Permalink
|

Print Article
in

Curve ball,

Dodgers,

Lefties,

Los Angeles Dodgers,

analysis,

pitching
|
tagged

CClayton Kershaw,

Los Angeles Dodgers,

Pitch types