David Golebiewski
|

Tuesday, October 8, 2013 at 4:24PM
The Pirates and Cardinals face off Wednesday night for the 24th and final time during the 2013 season, with a trip to the National League Championship Series on the line. The Dodgers' opponent in the fight for NL supremacy may be decided by whether the Bucs can accomplish something they failed to do in NLDS Game 1: Solve Adam Wainwright's curveball. Pittsburgh has struggled all year along against the curve, though a pair of trade pickups offer hope as the club tries to win its first postseason matchup since Willie Stargell and Dave Parker raked for the 1979 World Series champs.
Pirates batters are slugging a collective .268 against curveballs this season, which is 55 points below the MLB average (.323) and bests only the historically punchless Miami Marlins among all teams. In particular, Pedro Alvarez (.123 slugging percentage versus curveballs), Starling Marte (.237) and Russell Martin (.267) are flailing when pitchers snap off a curve.
For Alvarez, merely making contact against a curve is a coin flip. He's swinging and missing 49.1 percent of the time versus curveballs in 2013, the second-highest clip among qualified hitters (Dan Uggla whiffed 49.4 percent). Pitchers are well aware of his weakness, feeding him the seventh-highest rate of curveballs seen (12.6 percent) among MLB hitters. Unless pitchers hang a curve over the middle of the plate, Pedro's whiffing:
Alvarez's contact rate by pitch location versus curveballs, 2013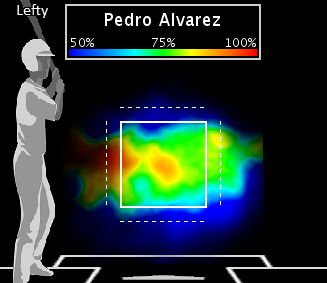 Marte, meanwhile, can't resist the urge to hack at curveballs thrown in the dirt. He's chasing curves at the fifth-highest rate (40.2 percent) in the National League. Like Alvarez, Marte's trouble with the curve is well-known: He has seen curveballs 11.8 percent of the time this season, the NL's eighth-highest rate. Marte expands his strike zone to go after low-and-away breakers:
Marte's swing rate by pitch location versus curveballs, 2013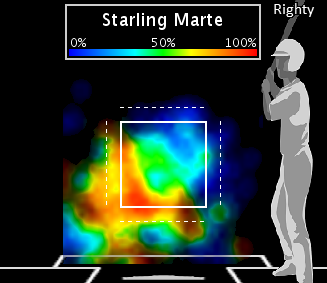 Martin doesn't see as many curves as Alvarez or Marte (9.1 percent of total pitches), and he doesn't share their contact or plate discipline woes against the pitch. It's just that nothing happens when he puts curveballs in play. Martin is hitting a ground ball 62.5 percent of the time versus curves, the ninth-highest rate in the NL. Considering that Martin is a catcher with over 1,000 big leagues games to his name and his batting average on grounders (.228) is way below the big league average (.254), that's not a happy development.
Not all Bucs are scuffling against curveballs, however. Andrew McCutchen (.371 slugging percentage versus curves) and Neil Walker (.378) hold their own, while midseason trade acquisitions Marlon Byrd (.452) and Justin Morneau (.507) crush the pitch.
Wainwright, who throws the fourth-highest percentage of curveballs (27.3 percent) among starting pitchers and has limited hitters to a .230 slugging percentage (11th-best), schooled the Pirates with his signature offering in Game 1. He racked up six swinging strikeouts with his curveball, getting Alvarez, Byrd (twice), Marte, Martin and Morneau to chase out of the strike zone. Bucs batters went 0-for-11 against Wainwright's curve and didn't hit a single one out of the infield. If the Pirates are going to play for the pennant, that has to change in their Game 5 rematch.

Post a Comment
|

Email Article
| |

Permalink
|

Print Article
in

Cardinals,

Pirates
|
tagged

Adam Wainwright,

Andrew McCutchen,

Justin Morneau,

Marlon Byrd,

NLDS,

Neil Walker,

Pedro Alvarez,

Pittsburgh Pirates,

Russell Martin,

St. Louis Cardinals,

Starling Marte