Peter Gammons
|

Friday, May 17, 2013 at 9:00AM

This analysis is a provided by Peter Gammons. For more analysis from Peter Gammons you can follow him on Twitter ().
It was sometime after Thanksgiving, 2005 that Rays owner Stu Sternberg made official what everyone expected, that Andrew Friedman was taking over the baseball operations of a franchise that had never won as many as 71 games. Friedman was a former Tulane outfielder and had the esteemed Gerry Hunsicker as an advisor, but throughout the game there was the perception that the team once known as the Devil Rays was being turned into a satellite division of MidMark Capital, Friedman's former employer.
Within three seasons, Friedman sideswiped tradition and hired Joe Maddon as manager and in 2008 the Rays made it to the World Series. In a division with the Yankees and Red Sox and their payrolls, that 2008 pennant began a five year run in which Tampa Bay won 90 games four times, made the post-season thrice and did it with by far the smallest annual payroll in the American League East. No team in the game won more games spending fewer dollars over those five years than the Rays.
What they've accomplished has been built around pitching, and Maddon's astute usage of starting pitching, an organizational throwing and conditioning program that averaged nearly 150 starts a year out of their top five starters, and Maddon's creativity in patching together bullpens.
In lieu of going out and trading for or signing power hitters, and faced with the reality that they could not afford to keep players like Carl Crawford and B,J. Upton from entering the free agent market, Friedman and Maddon put a premium on flexibility. For example, in 2009, Ben Zobrist, a switch-hitter, hit 27 homers, had a .405 on base percentage and was fourth in the league with a .948 OPS while playing 91 games at second, 59 in right field, 13 at short, 9 in left, 7 in center, three at first base and one at third. "Who could possibly be more valuable than Zobrist?" asked Maddon.
From Sam Fuld to Matt Joyce to Jeff Keppinger, they have patched together lineups from day to day, city to  city, building around the pitching. Maddon maintains that James Shields was a big part of the run from 70 wins to the world series because of the leadership he offered David Price, Wade Davis and, eventually in ensuing years, Jeremy Hellickson, Matt Moore, Alex Cobb.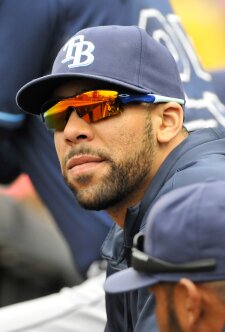 In 2013 opposing batters are hitting .341 when facing David Price from the right side of the plate at Tropicana Field (30 for 88 at the Trop). There is no questioning Tampa's ability to find pitching. Granted, Price was a no-brainer in 2007; he was everyone's number one, a reward for the Rays having the worst record in baseball in 2006. But Hellickson was a fourth rounder in 2005, when Friedman was overseeing baseball operations. Cobb was a fourth rounder in 2006. Moore was an eighth rounder in 2007.
Their professional scouts work to exhaustion, and got them Chris Archer in the Matt Garza deal, Alex Torres in the Scott Kazmir trade, Brandon Gomes in a deal with San Diego for Jason Bartlett and Jake Odirizzi with outfielder Wil Myers in the Kansas City deal for Shields and Davis. Their international scouts found Alex Colome in Latin America.
And in mid-May this season, one scout says the Rays' AAA rotation in Durham of Archer, Odirizzi, Colome and Torres "may be the best triple-A rotation I've seen in five years."
But there is a flaw in the Tampa system—finding and drafting position players. Sure, they drafted Evan Longoria in 2006, but he was the third pick in the nation, and fell in their laps because the Royals and Rockies picked Luke Hochevar and Greg Reynolds in front of them. They also got Desmond Jennings in the 10th round in 2006. But when one looks at Tampa's current 40 man roster, and the only positional player they drafted other than Longoria and Jennings is shortstop Tim Beckham, who represents one of the worst draft blunders of the last decade.
The Rays had the first selection in 2008 and took Beckham, a high school shortstop for Georgia. In so doing, they passed on Buster Posey, who not only filled their longtime catching need, but was playing right up the road at Florida State. Some in the organization are said to have been concerned about Posey's asking price, although they paid Beckham $6.15M. Others wondered whether or not Posey, who was drafted a pitcher out of high school and played shortstop one season at Florida State, would hold up catching and hitting with a build very similar to Brad Ausmus.
Posey went on to win two World Series rings and an MVP trophy four years after that draft, and the Rays continue to look for a catcher. To make it worse, in their final year picking at the top of the draft, not one player picked from the second round on down has spent a day in the big leagues. No position player from the 2009 or 2010 drafts has spent a day in the big leagues, and the side-affect of their major league success is that even if they are one of the lowest-revenue teams, they could go several years after the Beckham choice without a pick in the top ten of the first round.
With the Rays facing a decision on Price's future in Tampa at the end of the season, presuming the arm problem he felt on May 15 is not serious, the strain on the development of young players will become evern more acute. Even if Myers hits it big, they need catching, middle infield and outfield help, presuming Moore takes Price's role as the ace of the staff.
What Friedman, Maddon and the Rays have done is to maintain one of the best management jobs of the last decade. They did it without developing a position player since Jennings, but beginning with this June's draft, they will have to begin to draft and develop position players if their run with the game's elite is going to continue.

Post a Comment
|

Email Article
| |

Permalink
|

Print Article
in

MLB Draft,

Tampa Bay Rays
|
tagged

Ben Zobrist,

David Price,

Joe Maddon,

Tampa Bay Rays,

andrew friedman