David Golebiewski
|

Thursday, May 16, 2013 at 1:06PM
Gloves might as well be optional tonight in Texas, as Justin Verlander (10 strikeouts per nine innings, 1.93 ERA) squares off against Yu Darvish (13.7 K/9, 2.73 ERA) at 8:05 PM EST on MLB Network. Verlander and Darvish are early Cy Young favorites in part because they bring the heat, but they use their premium fastballs in far different ways. Verlander lets it ride high and in the strike zone. Darvish, by contrast, pounds hitters with shin-high pitches.
Verlander is averaging "just" 93.3 MPH with his fastball, tying him with David Price, Justin Masterson and Derek Holland for highest among American League starters. Darvish also ranks in the top ten, averaging 92.8 MPH. Those lofty radar gun readings are translating into precious little hard contact for opposing hitters:
Lowest opponent slugging percentage on fastballs, 2013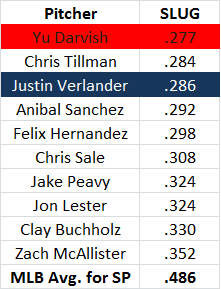 Verlander and Darvish both throw hard, and they're both torturing hitters. That's where the similarities end, though. Check out their respective fastball locations in 2013:
Verlander's fastball location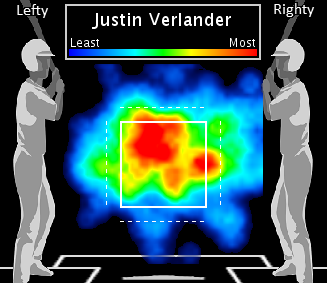 Detroit's ace dares hitters to handle his searing fastball, throwing far more of them over the plate (56%) than the average MLB starter (52%). Most of those fastballs are belt-or-letter-high: Verlander has tossed just 19% of his heaters down in the zone, well under the 30% MLB average.
Darvish's fastball location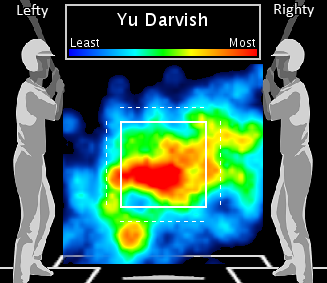 While Verlander's fastball philosophy can be summed up as, "Here it is, just try and hit it," Darvish's approach relies more on deception and location. Texas' ace has thrown just 41% of fastballs over the plate, the lowest clip among qualified starters. He has also thrown 41% of his heaters down in the zone, trailing only Jeremy Hellickson among AL starters.
High and in the zone, low and off the dish...either way, the result is devastating. Good luck, Rangers and Tigers hitters. You'll need it tonight.

Post a Comment
|

Email Article
| |

Permalink
|

Print Article
in

Rangers,

Tigers
|
tagged

Detroit Tigers,

Fastballs,

Justin Verlander,

MLB Network,

Texas Rangers,

Yu Darvish