Bronson Arroyo Stretches the Strike Zone, Survives Gopheritis

David Golebiewski
|

Monday, February 10, 2014 at 6:00AM
Admit it: you have no idea how Bronson Arroyo's still doing this. He's a wisp of a human being by starting pitcher standards, he slings more slop than a school lunch lady, and he coughs up home runs worthy of their own frequent flyer program. He was cut loose by the Pirates over a decade ago, back when their ace was...Kip Wells? A few years later, Boston swapped him to Cincinnati for prolific out-maker Wily Mo Pena. Yet, Arroyo keeps logging 200 innings a season and cashing checks: The Diamondbacks just signed the soon-to-be-37-year-old to a two-year, $23.5 million deal that includes an $11 million club option for the 2016 season.
Perhaps the most remarkable aspect of Arroyo's unlikely longevity is how often -- and how epically -- he allows batters to take him deep. During his 14-year career, Arroyo has served up 314 home runs in 2,278.2 innings pitched (about 1.24 homers per nine frames). Pitchers who get blasted that often don't stick around the big leagues, much less perform well and pull in nearly $100 million in career earnings. Just five pitchers in MLB history have thrown 2,000-plus innings while allowing at least 1.2 homers per nine (Steve Trachsel, Brad Radke, Pedro Ramos, Arroyo and Woody Williams). And just three of those guys (Radke, Arroyo, and Williams) have managed to compile an above-average ERA once you account for park factors and leaguewide run-scoring levels.
Like Radke and Williams, Arroyo has overcome his severe case of gopheritis by displaying exquisite control. And the older he gets, the stingier he becomes with the free passes: Arroyo has lowered his walk rate in each of the past six seasons, from 3.1 per nine innings in 2008 to a mere 1.5 per nine in 2013. He nearly gave up more homers (32) than walks (34) last year, a bizarre feat that Arroyo actually accomplished back in 2011.
In his mid-to-late-thirties, Arroyo has become a devout follower of the Radke approach to pitching: Fill up the strike zone, walk no one, and learn to live with the solo and two-run bombs. Arroyo has steadily thrown more pitches over the plate (from 44.3 percent of his total offerings in 2008 to 53.8 percent in 2013), and he's getting more calls on the edges of the zone. Take a look at his called strike rate by pitch location back in '08, and then in 2013. Pay especially close attention to pitches thrown up around the letters, and at hitters' knees.
Arroyo's called strike rate by pitch location, 2008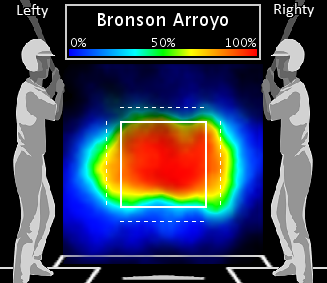 Arroyo's called strike rate by pitch location, 2013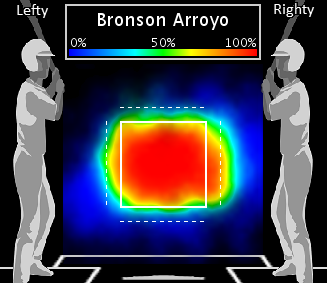 Arroyo has stretched the strike zone vertically, getting the benefit of the doubt from umps on both high and low pitches. His overall called strike rate, which sat at 33 percent back in 2008, climbed into the mid-to-high-thirties over the years and then shot all the way up to 41.4 in 2013. The only qualified starter with a higher called strike rate last season was Cliff Lee (42.2 percent).
Last year, we found that there's a connection between velocity and called strike rate: the slower you throw, the more calls you get from the ump. Arroyo certainly seems to be benefiting from this phenomenon. Never one for lighting up radar guns, Arroyo has become shown even less zip lately. He threw his seldom-used fastball an average of 86.8 MPH last year, down from 88.3 MPH back in '08. Arroyo's soft stuff is softer, too -- he averaged 75.1 MPH when lobbing a slider, curveball or changeup in 2013, compared to 76.3 MPH during his higher-walk days in '08. 
Despite Arroyo's durability and control, there's plenty that could go wrong over the next two years. His body could finally break down as he approaches 40. His receding fastball could enter Jamie Moyer territory. He could become even more homer-prone. But Arroyo has succeeded thus far by throwing his pedestrian pitches over the plate, benefiting from calls on the edges of the zone and tolerating the fireworks displays at his expense. It's not glamorous, but the D-Backs would gladly take another 400 innings of league-average slop-tossing from Arroyo.  

Post a Comment
|

Email Article
| |

Permalink
|

Print Article
in

Diamondbacks,

Free Agent Signings,

Free Agents,

Home Runs,

fastballs
|
tagged

$23.5 million,

Arizona Diamondbacks,

Brad Radke,

Bronson Arroyo,

Cincinnati Reds,

Two-year,

control,

home runs