David Golebiewski
|

Monday, February 3, 2014 at 6:00AM
Now that he's committed to pitching in 2014, A.J. Burnett could well alter the playoff landscape -- and prove to be the best free agent value of the offseason. The 37-year-old is still at the peak of his abilities, punching out a major league and career-best 9.8 hitters per nine frames last season, he's looking for a short-term deal, and he won't cost teams a draft pick because the Pirates didn't make him a $14.1 million qualifying offer. Burnett could pitch every bit as well as, say, Masahiro Tanaka in 2014, and clubs won't have to commit the years and dollars that typically lead to free agent pitching deals exploding like cheap ACME bombs. He's basically the NL version of Hiroki Kuroda.
Just how did Burnett manage to post the best strikeout rate ever for a starting pitcher during his age-36 season this side of Randy Johnson (12.6 K/9) and Curt Schilling (10.4 K/9)? He drastically changed his two-strike approach against right-handed hitters, tossing more pitches off the plate and relying on hitters to hack their way back to the dugout.
In 2012, Burnett struck out 21.9 percent of the right-handed hitters that he faced. That was solid, but not all that far above the 20.1 percent major league average in righty-versus-righty confrontations.  Part of the reason for A.J.'s good-not-great K rate was that he threw nearly half (48.5 percent) of his two-strike pitches to righties within the strike zone. Most righty pitchers are less aggressive than Burnett was with two-strikes, looking for chases against same-handed hitters (the average zone rate in two-strike counts is about 42 percent).
Burnett's two-strike pitch location vs. righty hitters, 2012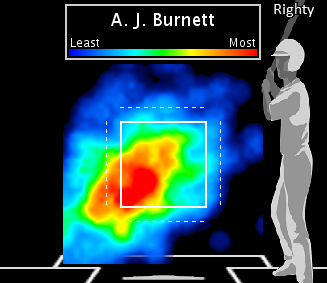 In 2013, however, Burnett decided to bury more pitches in the dirt when righties had their backs against the wall. Hoping that same-handed hitters would retire themselves, Burnett tossed just 39.9 percent of his two-strike offerings within the strike zone. A lot of those off-the-plate pitches were curveballs, as he relied more on his hook with two strikes this past year (55.3 percent) than in 2012 (48.5 percent).  
Burnett's two-strike pitch location vs. righty hitters, 2013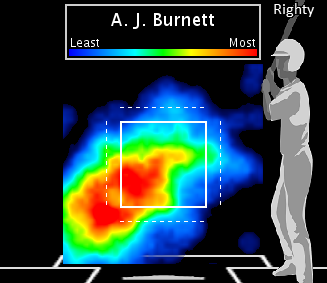 Burnett's less aggressive two-strike approach paid off: righties chased considerably more pitches outside of the strike zone (41.6 percent, up from 30.5 percent in 2012) and whiffed more often (32.2 percent in 2013, 24.3 percent in '12). By baiting righties, Burnett increased strikeout rate against them to 29.6 percent. Among righty starters, only Yu Darvish (38.5 percent), Justin Masterson (32 percent), and Max Scherzer (31.6 percent) fooled right-handed hitters more frequently.
Possessing a mix of strikeout stuff and ground ball tendencies rarely seen -- the only other starters inducing at least a whiff per inning with a ground ball rate north of 50 were Masterson, Stephen Strasburg and Felix Hernandez -- Burnett could make all the difference for a number of playoff bubble teams. Whether he takes the bump in Pittsburgh, Baltimore, Philly or elsewhere in 2014, Burnett will have righties breaking out in a cold sweat once they're down to their final strike.

Post a Comment
|

Email Article
| |

Permalink
|

Print Article
in

Curve ball,

Free Agents,

Pirates,

Strikeouts
|
tagged

A.J. Burnett,

Blue Jays,

Orioles,

Pittsburgh Pirates,

Two strikes,

curveball,

free agent,

strikeouts