Bill Chuck - Managing Editor
|

Monday, August 19, 2013 at 4:30PM
I am in awe of living in the Miguel Cabrera Era.
I feel like every day I'm writing another edition of The Miguel Cabrera Report describing the accomplishments and exploits of the right-handed bat of this generation.
Check out the numbers for the last two seasons
The Miggy Report
|   | AVG | SLUG | OBP | HR | RBI | Runs | G | AB |
| --- | --- | --- | --- | --- | --- | --- | --- | --- |
| Miguel Cabrera 2013 | .360 | .689 | .452 | 40 | 120 | 89 | 116 | 444 |
| Miguel Cabrera 2012 | .330 | .606 | .393 | 44 | 139 | 109 | 161 | 622 |
| Miguel Cabrera 2012-13 | .342 | .641 | .418 | 84 | 259 | 198 | 277 | 1066 |
How to get Miguel Cabrera out
I thought you might interested in knowing that there are some ways of getting Miggy out, but the margin between a pitcher's success and failure is mighty slim.
All the graphics represent Miguel Cabrera BA for 2013
Here is a look at Cabrera's 522 PA in 2013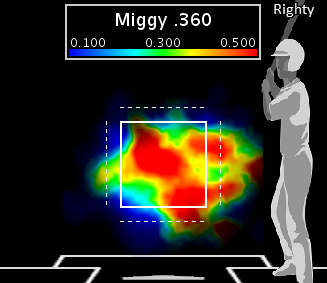 Clearly, we can see that Cabrera owns the inner half of the plate where he's hitting .404.
So if a pitcher wants to get Cabrera out, he's got to go to the outside.
Cabrera on the outer half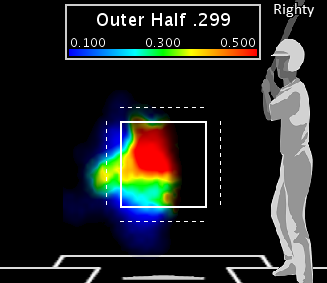 Cabrera is hitting .299 on the outer half of the plate, a number that a pitcher would not consider manageable particularly when you consider he's hit 15 homers and has a 1.037 OPS out there.
How about the upper half of the outer half of the plate?
Is this how to get Miggy out?
If I were a pitcher, I wouldn't want to go to there.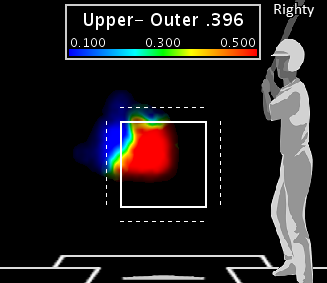 In that quadrant, Cabrera is hitting .396 and he has an OPS of 1.301.
How about the middle of the outer half?
OMG! This is not where you want to pitch Cabrera.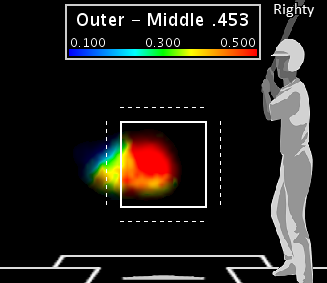 Miggy is hitting .453 with 12 homers and an OPS of 1.425.
That leaves only one spot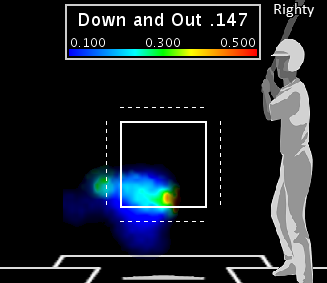 This is indeed the magic spot.
Cabrera proves that he is human when you can throw him pitches low and outside where he is only hitting .147 with an OPS of .580.
But you must be precise
A pitcher has to really be precise because if you miss the corner and you pitch low, but you end up in the middle of the plate, Miggy starts to recover.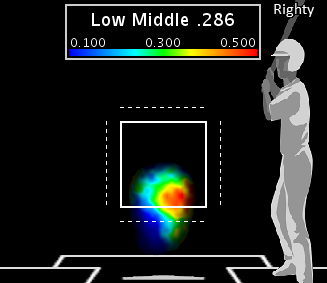 A .286 BA is mortal, the .866 OPS is getting scary though.
But don't miss low and inside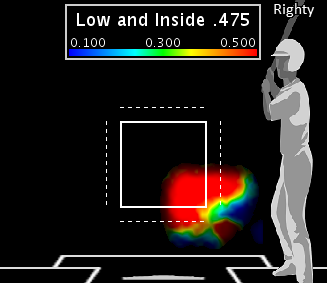 Miggy punishes pitchers at a .475 rate and a 1.198 OPS. But he's been held to just one homer.
Here's the one homer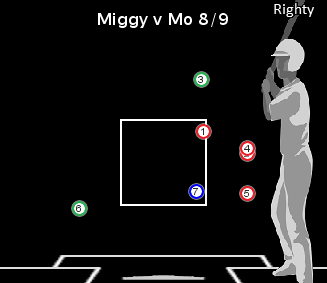 On August 9, Cabrera made a remarkable adjustment against Mariano Rivera and pitch number seven from Mo was an enormous game-tying homer.
Good luck to pitchers
So there's your lesson in how to get Miggy Cabrera out.
Remember, we are talking inches here.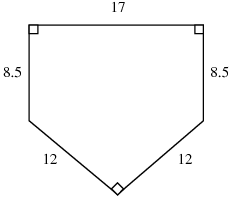 If you are off by just a couple of inches, the Marvelous Miguel will punish you and even if you are not, as Mo learned, if he makes an adjustment your best laid plans will head toward the stands.

Post a Comment
|

Email Article
| |

Permalink
|

Print Article
in

Bill Chuck Files,

Detroit Tigers,

Hitting,

pitching
|
tagged

Mariano Rivera,

Miguel Cabrera