Bill Chuck - Managing Editor
|

Monday, August 12, 2013 at 4:36PM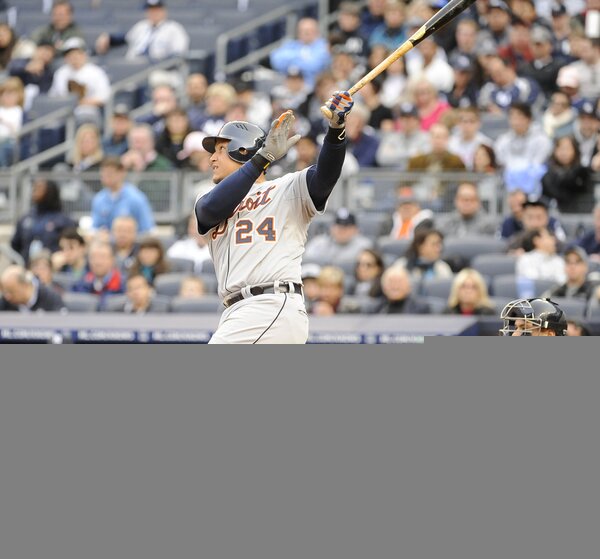 There have been many a hypothetical conversation of who would win in a match-up between the best hitter in baseball versus the best reliever. 
How great would it be?
When hypothesis turned to reality, it was even better than we could have ever imagined.
Let's take a look at Miguel Cabrera facing Mariano Rivera
Friday night, August 9, 2013, at Yankee Stadium
It's the 9th inning, two down and Austin Jackson is on second with the Tigers trailing, 3-1.
Miguel Cabrera steps in to face Mariano Rivera
At the time of the at bat, Miggy was 0-for-5 versus Mo, with one strikeout.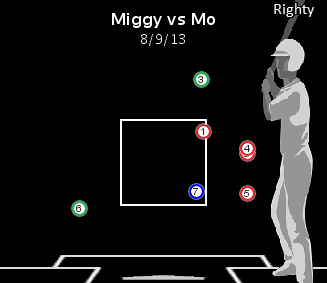 0-0 - Foul on a 91 MPH Four Seamer - Over the Plate. This at bat could have been, should have been over here, but Lyle Overbay alligator-armed it as he approached the dugout railing.
0-1 - Foul on a 92 MPH Four Seamer - Inside - Cabrera grounds it foul.
0-2 - Ball on a 91 MPH Cutter - High - Mo tries to expand the zone and get Cabrera to chase a pitch around his neck. Miggy doesn't bite.
1-2 - Foul on a 93 MPH Four Seamer - Inside - This pitch was in on his hands and Cabrera slams the foul off the top of his knee.
1-2 - Foul on a 93 MPH Four Seamer - Inside - This time Cabrera fouls the pitch off of his foot.
1-2 - Ball on a 92 MPH Cutter - Outside - After pounding him on the inside, Rivera tries to get Cabrera to chase a cutter on the outside. It's not close; Cabrera shows no interest.
2-2 - Fly Ball Home Run on a 93 MPH Four Seamer - Over the Plate  - This is the pitch that people will talk about for years to come. 
If you stop the video, you can watch Cabrera make the adjustment of greatness.
While thousands of times in his MLB career, batters have stepped into Mariano's cutter only to be jammed resulting in a swing and a miss, a foul, or a broken bat that leads to a weak grounder. But Cabrera, on that beaten leg, opened his stance. He took a step toward third base so that he could get the fat part of the bat on the ball and then slam it to dead centerfield and over the fence. Even though the pitch was on the lower inside part of the plate, Cabrera was able to keep his weight back, his hips back, and extend his arms in a magnificent display of hitting.
A "Wow!" Mo-ment
When you watch the replay, watch Mariano's reaction. He says, "Wow!" as he can't even believe it.
Treasure this at bat, I can guarantee you, it will be spoken about for years to come including when each of these players are inducted into the Hall of Fame.
If you can't see the video, head here.

Post a Comment |

Email Article | |

Permalink |

Print Article
in

Batters,

Detroit Tigers,

Pitchers,

Yankees,

cutter,

pitching | tagged

Mariano Rivera,

Miguel Cabrera