Alec Dopp
|

Tuesday, August 13, 2013 at 8:56PM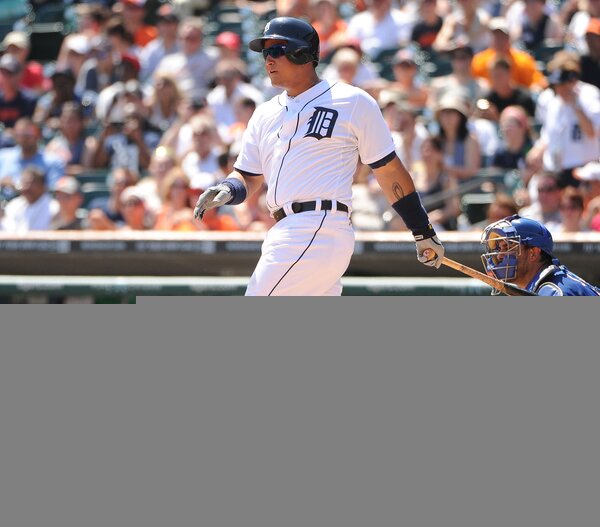 Though Miguel Cabrera has been the best hitter in baseball this season, leading all MLB hitters in batting average (.366) and weighted on-base average (.476) while holding a sizeable lead in OPS (1.151) coming into action Tuesday night, quite possibly his best attribute as a hitter has received little recognition this season:
His ability to generate opposite field power on pitches located in the middle or inside portion of the plate.
Opposite Field Power
Curt Schilling finally brought this elite attribute to the forefront Monday night in a special bit on Baseball Tonight just minutes after Cabrera flicked a 96 mile-per-hour Chris Sale heater over the right field wall with what seemed to be relative ease. Freezing the tape at the point-of-contact from Cabrera's home run off Sale, Schilling detailed Cabrera's phenomenal ability to let the ball travel further across the plate yet still draw immense raw power to the opposite field.
The contact point of Cabrera's home run against Sale.
As you can see, Sale's fastball ended up pretty much center-cut at knee height. But instead of trying to yank the pitch to his pull side, Cabrera let the ball travel just a tick longer through the zone, enabling his wrists to flick the pitch over the right field wall with ease.
Cabrera's opposite-field SLG% on pitches located in the middle and inner region of the zone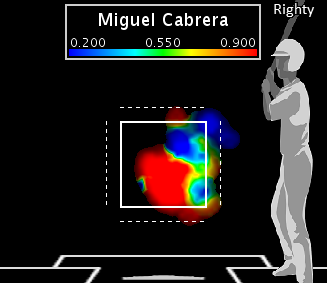 Cabrera's .857 slugging percentage to the opposite field on pitches located either in the middle or inner region of the strike zone currently ranks third-best in baseball this season behind Joe Mauer (.911) and Josh Donaldson (.906), and is more than double that of the .390 major-league average.
What's scary is that Cabrera is actually improving 
| | | | |
| --- | --- | --- | --- |
|   | 2011 | 2012 | 2013 |
| SLG% | .500 | .593 | .857 |
We see a steady increase from 2011 to 2012 in Cabrera's opposite-field slugging percentage on pitches located in either the middle or inside portion of the plate, and a considerable jump from 2012 to this season.
Good luck trying to throw inside on Miggy from here on out...or in.

Post a Comment
|

Email Article
| |

Permalink
|

Print Article