David Golebiewski
|

Wednesday, August 14, 2013 at 7:00AM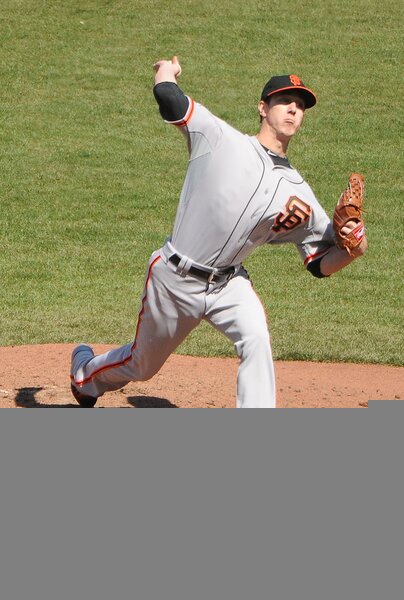 While the San Francisco Giants won't have the chance to defend their World Series title this October, Tim Lincecum has plenty riding on the rest of the 2013 season.
The 29-year-old righty hits the free agent market this winter sporting two Cy Young Awards but also a combined 73 ERA+ over the 2012-13 seasons, worst among starting pitchers throwing at least 300 innings over that time frame. From 2007-11, by contrast, he had a 137 ERA+.  (An average ERA+ is 100, with a score over 100 indicating that a pitcher has performed better than the average, and a score below 100 pointing to below-average performance.) 
Lincecum's core stats -- strikeouts, walks, grounders -- suggest he deserves better than the middling 4.18 ERA that he carries into his Wednesday start against the Nationals as indicated by his fielding-independent ERA of 3.49 (FIP determines the quality of a pitcher's performance by eliminating plate appearance outcomes that involve defensive play. The basic pitcher-dependent outcomes are home runs, walks and strikeouts.). What's especially promising for Lincecum's 2014 free-agent prospects is how he has dramatically lowered his walk rate over the course of the season. 
Lincecum's declining walk rate
Lincecum issued a free pass to 13.2% of batters faced in April, well north of the 7.4% average for National League starting pitchers.
That walk rate has declined each month since then, however: 
8.9% of batters faced in May
7.9% in June
Just 6.6% in July-August. 
The Freak didn't suddenly start firing more pitches over the plate -- his percentage of pitches thrown within the strike zone has hovered around 50% most of the season, and is actually lower since the beginning of July (45%). Rather, Lincecum has induced more hitters to chase his stuff off the plate.
Check out his opponent chase rate by pitch location:
April
May
June
July-August
Lincecum got hitters to expand their strike zones just 21.4% of the time in April, a far cry from the 27% MLB average. His chase rate has steadily climbed since then: 24.6% in May, 25.9% in June, and 32% in July-August. With that, his batting average against has benefited dramatically because it's hard to get wood on pitches out of the zone. His BAA in May was .294, in June .263, in July .212, in August it's .140.
He's getting more chases with both his changeup and breaking stuff, and most of those wild swings are coming on pitches thrown at or below the knees.
In April, Lincecum had a 25.4% chase rate on pitches tossed to the lower third of the zone. That lower-third chase rate has soared: 26.8% in May, 35.3% in June, and 40.1% in July-August.
It remains to be seen as to whether his value in off-season will soar as well.

Post a Comment
|

Email Article
| |

Permalink
|

Print Article
in

Giants,

Pitchers,

pitching
|
tagged

San Francisco Giants,

Tim Lincecum,

walks